Doonan Glasshouse, QLD Finding Beauty in Simplicity
The project at a glance
Designer/Builder/Architect: Sarah Waller architecture
Photography: Paul Smith and Nadja Farghaly
Specified products: Sigma8 Concealed Cistern concealed cistern and Sigma50 flush button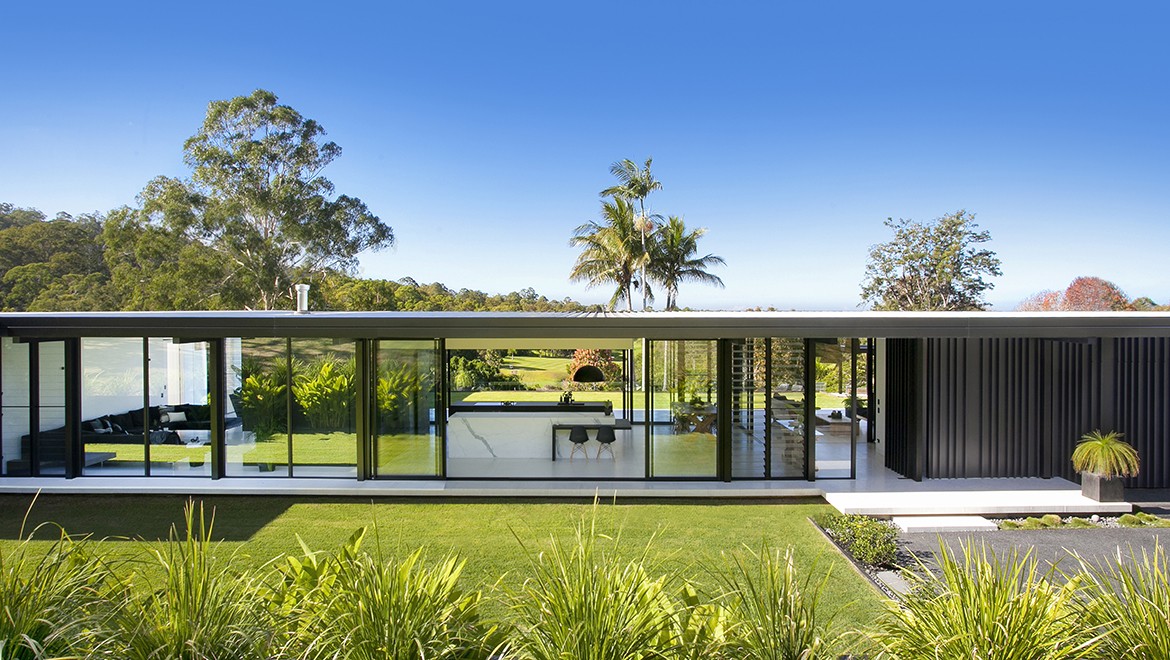 The Doonan Glasshouse has become an iconic building on Queensland's Sunshine Coast. Its minimalist interior and monochromatic colour palette are the signature style of architect Sarah Waller who designed and built it for her family. The five bathrooms feature Geberit concealed cisterns and black Sigma50 buttons for a seamless look and sophisticated style.
Sarah Waller is clearly a creative soul and one of the few female architects in Queensland who holds a builder's licence. With a Bachelor of Art, a Masters in Architecture and an Open Builder's Licence, she arrived in Australia twelve years ago and started working as a building designer, as her qualifications were not recognised at the time. Today she runs a multi-award winning architecture practice alongside her building business.
Her love for all things clean and simple is particularly visible in her iconic Glasshouse she designed and built in 2015/16. The house epitomises a minimalist interior embracing a monochromatic colour palette.
"Our home double functions as a family home and showcase for my work," Sarah explains. "It was incredibly satisfying to be the designer, builder, and architect of our home. We love the aesthetics and the feel of it."
Asked about the benefits of specifying Geberit, Sarah names quality and longevity of the products.
"As builder and architect, I know that problems can come back to me years after the build is finished. To avoid this, I specify Geberit. They are an established player in the market and offer outstanding after-sales service." - Sarah sums up the reasons why she prefers the Swiss supplier.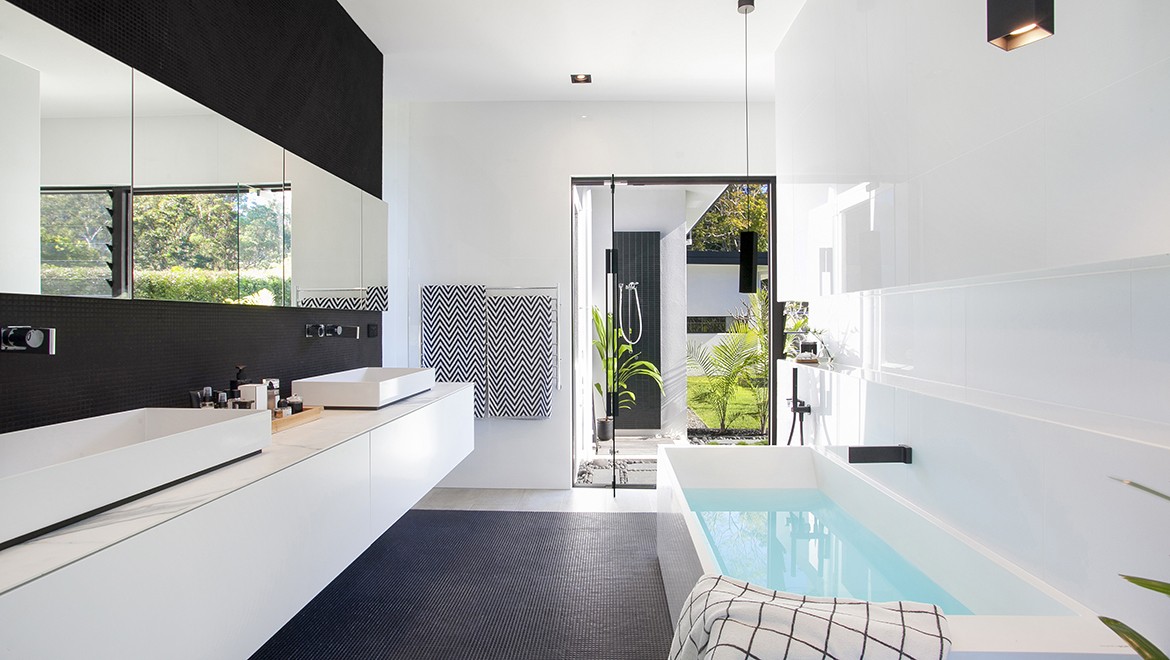 Award-Winning Bathroom Counts on Geberit
There is a seamless flow of spaces and rooms throughout the house and from the inside to the outdoors. The master bathroom, which features the same reduced colour palette as the living areas, won the HIA Queensland Bathroom of the Year Award in 2016. It extends to the outside where a freestanding bath surrounded by greenery creates a spa-like atmosphere. Throughout all of the five bathrooms in the home, Sarah specified Geberit concealed cisterns and black Sigma50 buttons.
"I wanted black accessories that go with my monochromatic colour palette, which was not that popular four years ago when I planned the house. But I knew Geberit from the UK and chose the Sigma50 buttons," Sarah says. She particularly likes that Geberit's extensive range offers architects design freedom and choices. "I selected the brushed finish for my buttons, as it is easy to clean and there are no fingerprints visible after using it."
From an architectural point of view, she prefers the back-to-wall, concealed cisterns, Geberit Sigma50, as they contribute to her paired-back mid-century modern style and make any bathroom look more spacious.
As the homeowner, she loves the fact that there are no ledges or shelves necessary that would distract from the clean lines that dominate the house.
Images