Gurner FV, Brisbane Design-Centric Residential Tower Capitalises on Geberit Space Saving Solutions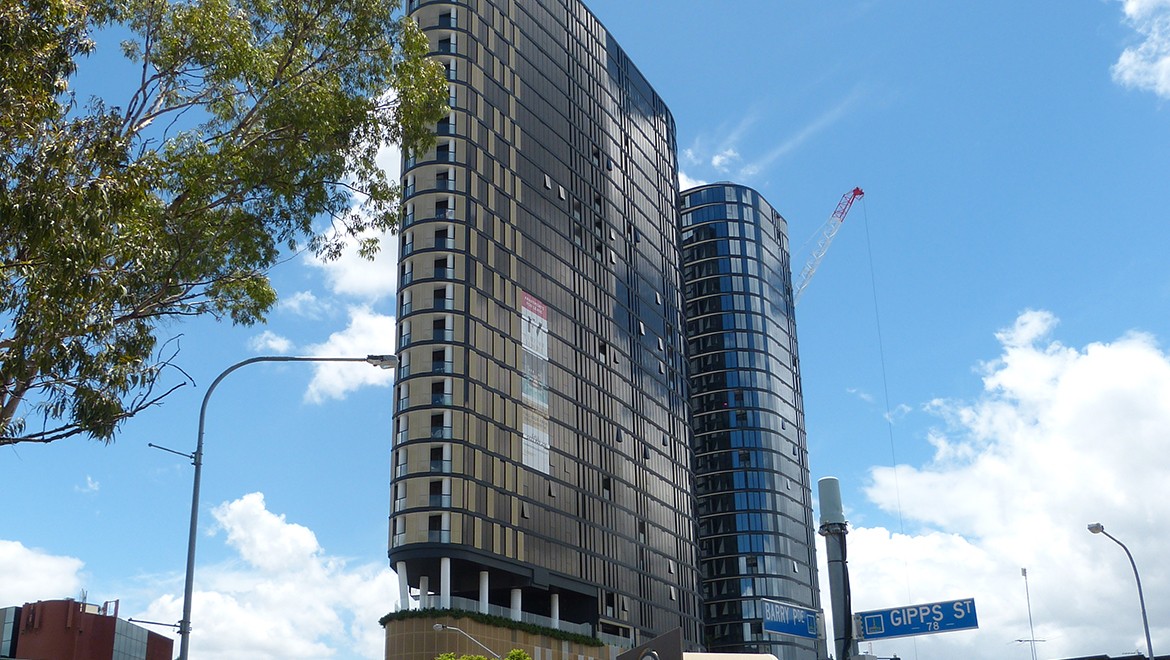 Apartment living in Australia's urban centres is on the rise with more and more people choosing low-maintenance homes close to amenities and infrastructure. Flatiron, a high rise, resort-style apartment development in Fortitude Valley, developed by GURNER™, has become one of Brisbane's most iconic buildings. By choosing Geberit's drainage systems Pluvia and Sovent over conventional solutions, the developer gained an estimated additional 92 square metres of space that would have otherwise been lost.
The Challenge: Restricted apartment ceilings
Developers seek to maximise their return on usable space while delivering attractive interiors. Therefore, good design plays a vital role in creating functional and stylish homes in more compact spaces.
Flatiron, based on the triangular-shaped landmark building of the same name in New York City, epitomises urban lifestyle on 25 storeys with over 250 design-centric 1- and 2-bedroom residences with an elegant, timeless appeal, a communal pool, private spa facilities, a cinema, and dining rooms.
The major challenges were the apartment and bathroom ceilings. Because of the multiple services installed in the ceilings, the plumber had to deal with particular restrictions. "We needed to consider flexible design parameters that would still allow full functionality of the hydraulic systems," explains Rob McAllister of Axis Plumbing.
The Solution: Geberit Pluvia and Sovent
The Flatiron building optimised space-saving solutions by counting on Geberit's innovative drainage systems Pluvia and Sovent.
The Pluvia siphonic roof drainage system reduced the number of downpipes from 21 to 3 and the number of floor penetrations from 525 to 75.
Additionally to using fewer downpipes and therefore fewer outlets, the economic Sovent system with a smaller pipe diameter and no need of parallel ventilation made it possible to gain 61 per cent more space which equalled 92 square metres or an additional apartment.
"Geberit Sovent allowed us to apply the principles of drainage without having to install extra pipework for venting and back venting. As a result, we used smaller hydraulic services risers, reduced penetrating slabs and decreased costs for surrounding passive fire protection." Rob McAlister sums up the main reason why they chose Geberit.
"For us, Geberit is the first choice, as the products are far superior to the competitors' with technical support that is second to none. Additionally, Geberit has a consistent brand strategy and is a proven performer who has been operating for many years." Rob McAlister, Axis Plumbing.
Benefits of Geberit Sovent
Reduces the pneumatic and hydraulic pressure
Offers versatile branch joining possibilities
Reduces stack sizes
Simplifies design of domestic water stacks
Up to six connections on one multiple branch fitting
No maintenance required