MARCO APARTMENTS, MELBOURNE CBD Geberit saved the developers of Marco Apartments 104sqm of space and over $876,000*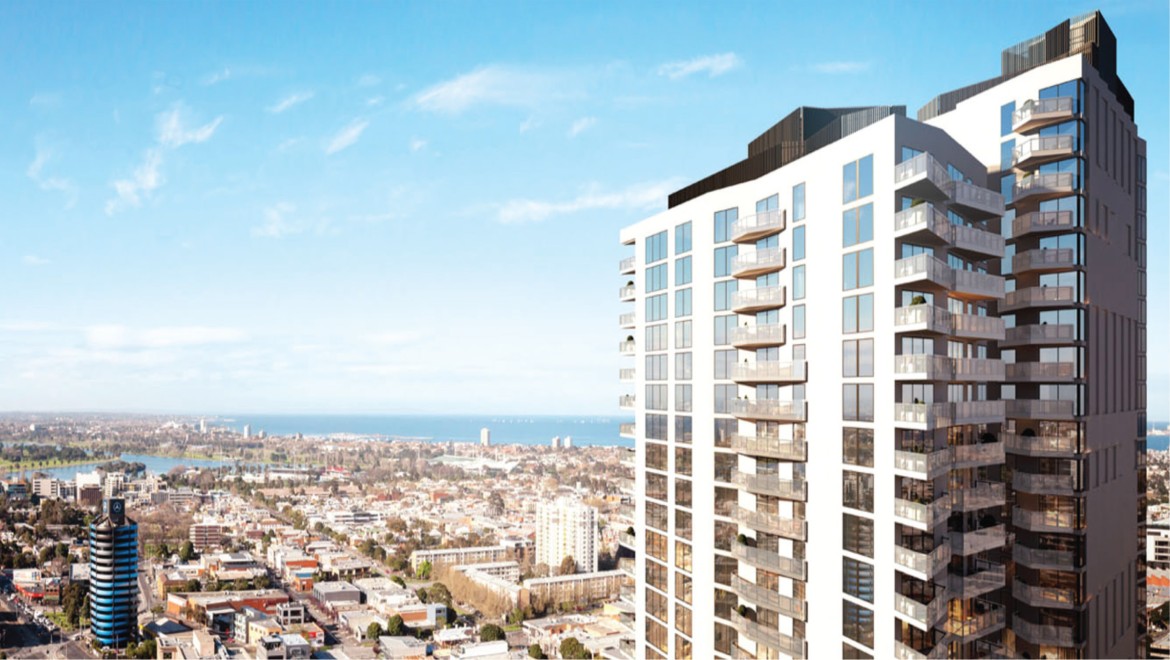 For the developers, Geberit meant space-saving, which quickly translated to dollar savings. In this case a significant saving, made even more significant when the savings in labour and time were factored in.
The dual towers of the Marco development on Melbourne's Southbank are destined to become landmarks on the Melbourne skyline. Designed by the Buchan Group, one of the largest and most prestigious architectural groups in Australasia, the two towers offer 460 superb quality residential apartments in a striking contemporary architectural presence.
At 36 and 40 levels towering up to 130m above street level, the height of the development posed significant challenges for plumbing contractors, Complete Plumbing Contracting. Initial construction plans had specified conventional drainage with secondary ventilation however Director Ben Young understood the advantages of Geberit's Sovent drainage system.
Geberit Sovent fittings offer significant economy of scale; they increase the capacity of the discharge stacks and eliminate the need to install a parallel ventilating stack which leads to substantial cost savings in terms of both material and labour. This technical superiority was achieved when Geberit improved the design of the Sovent 110 fitting to increase the discharge capacity by more than 30%.
The reduction in the number of stacks also increased the amount of usable space in the building, creating substantial value for the project.
"We always specify Geberit HDPE trade waste and drainage system. We've installed Sovent and Pluvia on all the high rise developments we've been contracted to because of their reliability and cost-saving factor. We had the specification on the Marco development updated to include Sovent, Pluvia and Geberit HDPE piping. We trust Geberit products to get the job completed without any problems". Ben Young, Director Complete Plumbing Contracting
By designing a Geberit Pluvia siphonic drainage system, only 1 downpipe was installed in each tower. If conventional roof drainage had been installed, 6 downpipes per tower would have been needed; so a total of only 2 downpipes for both towers, instead of 12. Fewer drainage stacks and rainwater downpipes resulted in fewer floor penetrations and risers being installed. Floor penetrations in the West Tower were reduced from 192 to 32 in and from 174 to 29 in the East Tower.
For Ben and his team, Geberit offers a safe and reliable solution. "The Geberit drainage systems we've installed have worked perfectly. They've withstood the challenges of wild weather conditions, operating flawlessly, as they were designed to do. It's the case with all Geberit piping systems we've specified and installed over the last 12 years".
Geberit makes the process of siphonic drainage design and installation easier. The plumber has the flexibility to design site-specific solutions using ProPlanner design software. Once pipe runs are coordinated and the design process is complete, ProPlanner can prepare a parts list which is issued to the site crew.
Space-saving with Pluvia
Geberit's Pluvia siphonic roof drainage system was installed in preference to conventional roof drainage. Unlike conventional roof drainage systems, Pluvia drains larger volumes of rainwater using fewer pipes of smaller diameter. The smaller pipes are easier to install and handle and require no fall. For the plumber, smaller pipe sizes and the ability to lay pipes flat delivered considerable space-saving.
Ease of installation
Geberit HDPE piping solutions are ideally suited to prefabrication on or off-site due to the flexible light-weight material and robust welded joints. Geberit can facilitate custom fabrication of Sovent stack risers to suit your project's needs.
Geberit can also provide training and accreditation to familiarise and train Plumbing contractors and apprentices in the installation of all Geberit HDPE products as well as the operation of the ESG 3 electrofusion welder. For Ben, it's a reassuring measure of support. "Our plumbers found it easy to install the Geberit systems and it was a pleasure to watch them in operation. It was also reassuring to know Geberit technical experts were available for onsite training and support if we needed it".
Geberit HDPE piping systems offer Builders, Plumbers and Hydraulic consultants innovative solutions that deliver not only cost savings but greater design freedom.
*Saving based on Southbank apartment average price psm. Source secretagent.com.au Oct 2016.