Geberit Innovations
New perspectives For the bathroom
By combining expertise in the fields of sanitary technology, design and innovative functions, we are able to open up new possibilities with regard to planning, designing and installing. Read on to find out about attractive new features and additions to the Geberit product ranges in front of and behind the wall.
Top innovations
space gaining technology geberit supertube
Optimised hydraulics in high-rise buildings to provide more residential and floor space. A parallel ventilation pipe installation is no longer required.
Perfect harmony geberit sensor taps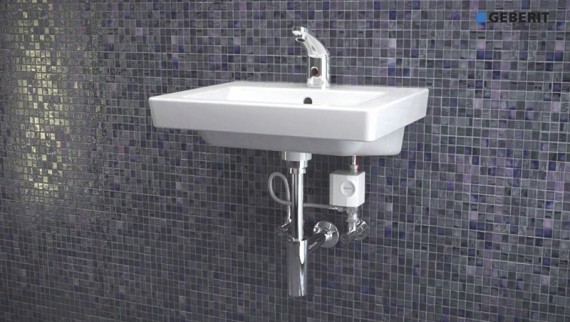 The Geberit HyTronic sensor taps of types 185/186 are reliable and easy to install solutions for public areas. These touchless sensor taps produce their own power. Flowing water charges the accumulator via the hydroelectric turbine which produces electricity. The electricity is loading an accumulator that makes sure that the tap is operational at any time. The generator is installed under the basin at the isolating valve.
Let it rain geberit pluvia
Geberit has been designing and perfecting siphonic roof drainage systems since the 80s. Today Geberit is a world leader, with Pluvia siphonic drainage systems having been installed in more than 30 countries. Geberit has more than two decades of experience in the Pacific region. Some of the most groundbreaking architectural designs have been made possible thanks to Pluvia siphonic technology. Large roof areas can be drained using fewer pipes and simplified hydraulic designs, releasing architects from the restrictions of conventional roof drainage systems.