A bathroom that appeals to the senses
The bathroom has been rid of its wet-room image intended exclusively for personal hygiene for quite some time now. Even in the smallest bathrooms, people are now trying to create an atmosphere that reflects their own personality.
It's all about achieving a more natural atmosphere in the bathroom to really appeal to the senses. This approach calls for a combination of conventional bathroom equipment such as a toilet, washbasin and shower, along with a wide variety of materials on the ceilings, walls and floors, and a selection of accessories.
Create effects with materials
Ceramic, wood, natural stone, tiles, glass, wallpaper, and metals are just some of the many materials found in the bathrooms of today. And bathroom designers agree that this is no bad thing. If one thing is clear, it's that a mix of materials makes it easy to create a cosy ambience and a place for relaxation with a personal touch.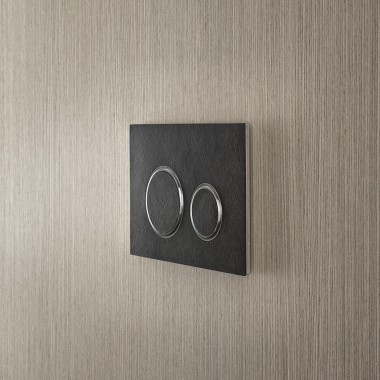 The Sigma 21 flush buttons in mustang slate
The glass Sigma 70 flush buttons in umbra
The Sigma 20 flush button
A mix of materials in the bathroom creates more cosiness
The great freedom of bathroom furnishing
There is no one-size-fits-all style for the bathroom, explains designer Tilla Goldberg, who makes bathroom dreams come true in both private and public facilities. "Every customer has their own taste and individual preferences in terms of shapes,colours and materials. For me personally, it is important to create a harmonious sense of cosiness in the bathroom. This calls for a concept to be implemented that incorporates both colours and materials."
The ideal solution to suit all requirements
Christoph Behling, Head Design Strategy at Geberit, also agrees with this view: "We don't impose any rules on our clients. We make sure that there is always something readily available to suit all tastes, all spaces and all budgets. This is exactly why design diversity is so very important in our portfolio."
Incidentally, the actual equipment design plays something of a subordinate role. It doesn't matter whether customers opt for clear-cut, straight ceramics or softer, round shapes. The big difference in how everything looks comes from the materials, textures and colours used in the interior design, with the accessories providing the final icing on the cake.
A mix of materials is right on trend
"In my opinion, matt materials seem to be the finish of choice right now. In other words, materials that are less reflective and therefore less cool. These include brushed metals for taps and actuator plates. Warm, muted tones are also on trend at the moment. Bathrooms like those of twenty years ago with their shiny white tiles and flashy fittings have had their day," explains Christoph Behling.
"Transparent and translucent materials – that is, materials that allow light to pass through, as well as natural materials such as real wood and stone – are also very popular. Another current buzzword in the bathroom world is 'biophilia'. If you have the space for it, design the room to include real plants. For small bathrooms, a floral wallpaper is a great alternative way to bring nature into the bathroom," notes designer Tilla Goldberg.
Which bathroom is the right one for you?